Rooms to let Potos Thasos
---
Potos in recent years has been selected as one of the top holiday destinations youthful.
In the popular resort of Thassos, the gorgeous Drinking find our rented rooms "Francesca Studios" which are built in a quiet place just minutes from the center of Potos, and a few minutes from super markets, shops, restaurants, bars, taverns and two sandy beaches where you can enjoy swimming.
Our rental rooms are a family business, structured in such a way as to provide you with your dream holiday in a homely atmosphere, providing all modern amenities, including and service around the clock, in a friendly and ideal for family holidays .
We have a private pool and a café-bar is open from morning until evening serving snacks, coffee, drinks and handmade Thassians delicacies that will thrill you. In the evening you can enjoy a refreshing drink, soft drink or cocktail in our garden.
So if you prefer simple but nice and cheap vacation and pleasant stay in a friendly, relaxed and beautifully decorated environment that remains is to visit our rented rooms in Thassos Francesca Studio.
---
"Our goal is to involve us with the service and hospitality, making your vacation in Thassos is like you had dreamed."
---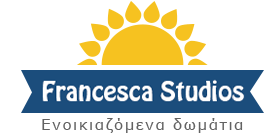 Francesca Studios | Rooms to let
Tel: 2593053136 Mob: 6975307645, 6977656531